God's Vision for Man: 'And God blessed them, and God said unto them, be fruitful and multiply'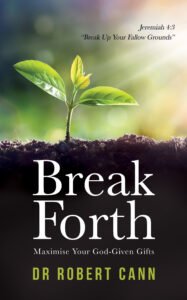 Rev (Dr) Robert Cann – MBChB.BSc.MRCGP. PGDip (SLAMEH) is a General Medical Practitioner (GP) and the author of "Break Forth: Maximise Your God-given Potential".
He has been a medical practitioner since 1997 and been pastoring for 10 years now. He currently serves as a pastor in the United Denominations of Lighthouse Group of Churches.
He had his basic medical training in Ghana before sojourning to the UK for his postgraduate training. He is now a full-time GP partner at his current family practice.
Robert loves teaching and for years has been involved in teaching and training as well as being involved in community health education.
He is an active member of the Ghanaian Doctors and Dentist Association of the United Kingdom (GDDAUK), a charitable organisation supporting provision of medical services to Ghana. He served as a past President of the GDDAUK.
He felt led to write Break Forth as far back as 1999, when he started writing a series of articles titled, Becoming Your Maximum, in the church newsletter. The desire to write a book became stronger in 2008 when the first seeds for Break Forth was sown. The more he interacted with young gifted people who appeared not to be fulfilling their potential, the more he felt led to write this book from his encounters with many young people.
His knowledge of the Word and experience in counselling, both from the clinical setting as well as in church has been a blessing to many in the body of Christ. This is his first ever book written in a unique style of encouragement and passion. Dr Cann is a great believer in the potential of young people and believes that with good counsel and encouragement, anyone can become extraordinary. Robert strongly believes that, given good guidance and counselling, many young people could become tomorrow's great leaders. He uses his own personal story as well as bible examples to encourage and bring hope to the reader.
Robert loves reading, loves sports and has a passion for teaching. He feels humbled to be used by God to reach out to others and hopes that Break Forth will be a blessing, will bring hope, encouragement and also inspire the reader to rise from mediocrity to fulfil their God-given gifts.
He is married to Babs, whom he calls a rock in his life and they are blessed with three wonderful children. They met whilst they were in University and both share a passion for the work of God and helping to establish other Christians in the Lord.
I'm open to communication so please contact me.